St Andrew's College stormed to a 40-17 victory over St John's College at Drew's Oval last Wednesday afternoon to kick off a highly anticipated title defence.
The game started with a kick-off from Jake Jorgensen of St Andrew's College, which was taken by John's and brought into contact. Despite some ball-carrying errors, John's managed to keep possession and kick towards Drew's. Drew's caught the ball and ran it out through their backs, but the ball was soon contested and turned over by John's, who kicked for touch to gain territory.
John's had success in the lineout and played a couple of phases before their forwards made a hit-up against Drews' lockdown defence. Despite some strong resistance, St Andrew's managed to get over the ball and cause a turnover. St Andrew's College's Jorgensen found touch at the 40, but the resulting lineout was not straight.
John's played a few more phases and managed to break through the sideline, but a knock-on ended their attack, resulting in a scrum to St Andrew's College. 15 minutes into the game, John's received a penalty and opted to go for the points, which they successfully converted to lead 3-0.
St Andrew's College got the ball back for the first time in the opposition's half and used their strong scrum to force an error from John's. St Andrew's College kicked for touch and had a successful lineout. They ran the ball out through their backs, with some big strong runs from their forward pack. After a couple of phases, they threw the ball out to Jorgensen, who got taken down on the 5 but a quick pop from ground saw Freddie Toone go in for the first try of the game. Jorgensen converted to push the score 7-3 in favour of the blue and white.
John's continued to rely on penalties for points and successfully converted another one just outside the 22, making the score 7-6 to St Andrew's College.
Jorgensen was soon sent to the bin for a high tackle, forcing St Andrew's College to bring Saxon Fenwicke into 10.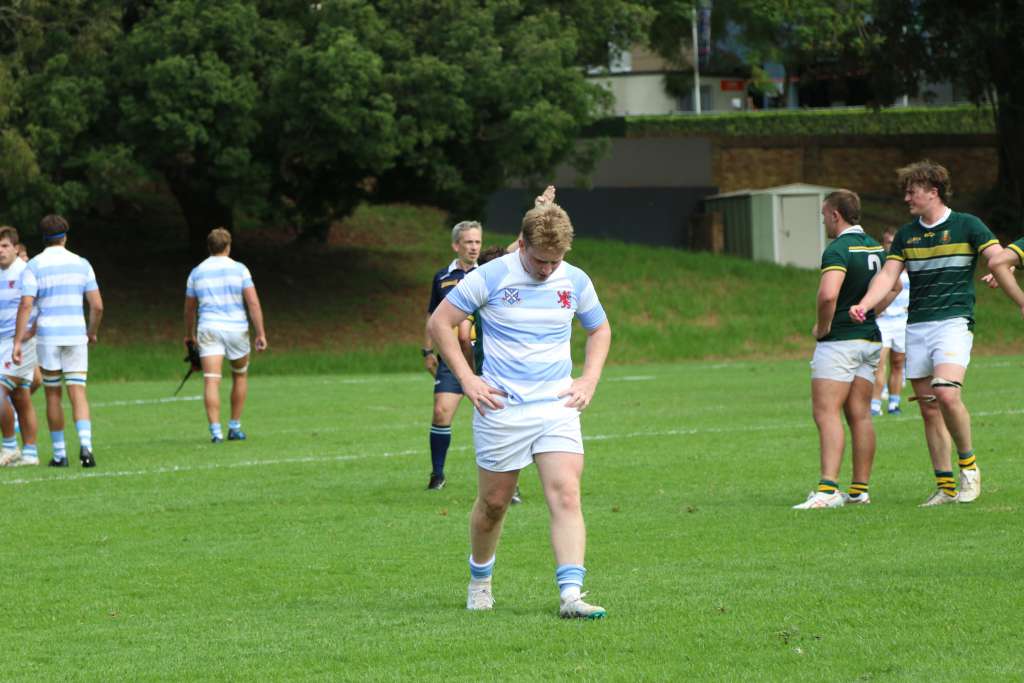 Jorgensen goes to the bin in the 28th minute
John's took another penalty and converted it successfully, with Dylan Mccan making it 3/3 and changing the score to 9-7 in favour of John's. Unfortunately, Drews' Henry Daunt suffered a dreadful injury after making a big hit that led to a turnover.
St Andrew's took advantage of a penalty and kicked for touch, giving them a lineout just 5 metres from the tryline. They set up a maul, and Jasper Jarvis got over the line to score, making the score 12-9 after an unsuccessful kick.
After playing a few phases in the opposition half, Fenwicke made a sneaky break and offloaded it to Harry Staniforth, who scored a try. Dougal Payne successfully kicked the conversion, making the score 19-9 in favour of St Andrews.
John's had a drop ball from Arnie Tancred, and St Andrew's College decided to scrum 30 metres out from their tryline. They kicked the ball down to the right, which was recovered by Will Constable off a perfect bounce. Constable was taken out in the air, but he got back up and offloaded it to Mateo Baldwin, who scored a try.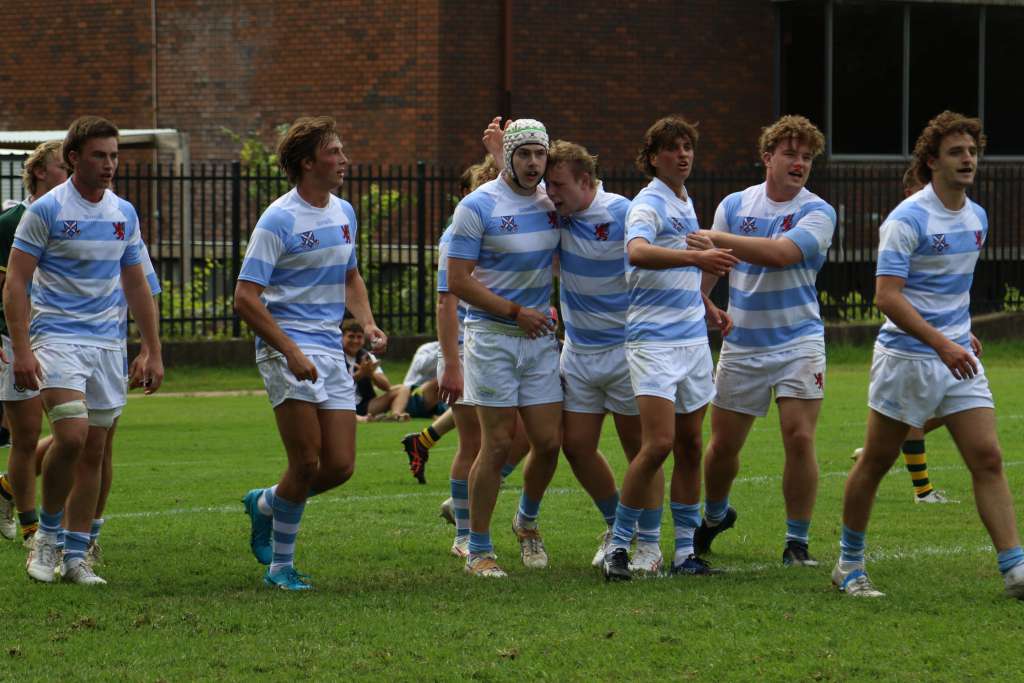 Baldwin scores off the back of an offload from Constable right before the break
Dougal Payne kicked the conversion, and going into the second half, St Andrew's College led 26-9.
In the second half, with a massive 50-22 from Saxon (Drews' lineout), Drew's gained 10 metres with a huge maul and gave it off to captain Max Von Appen, who put on a bit of footwork and a great "don't argue" stiff arm to find a hole and put it straight under the post. Jorgensen successfully kicked the ball, and the score became 33-9 in favour of Drew's.
John's tried to come back into the game by doing a couple of pick-and-go's until they found the right time to play it through the hand, which found Lane on the right wing for their first try of the game. Mccan's kick was unsuccessful, and Drew's still led 33-14.
Not long after, Jude Blair ran on the field for the first time in months, but he got a red card for a high tackle coat hanger on Julien Caillol.
After a great defensive tackle in Drews' 22, Archie Stacy defended a try but unfortunately received an injury that took him off the field and out of the season. John's got a penalty, and Isaac Rumble kicked the ball away to delay time, which led to a yellow card.
With a big kick from Fenwicke inside Drews' 22, there was a big chase from Angus Duff who nudged it ahead and was taken out without the ball. Drew's received a penalty try to end the game, and the final score was 40-17 in favour of the home side.
Although Drew's had a slow start in the first 15, they were able to pull through and secure a decisive victory. The boys now prepare to face up against a determined Wesley side next Wednesday at Pauls' Oval.