The pinnacle of the Rawson Cup took place on Wednesday, the 24th of May, with a stoic St Andrew's rugby team defeating a valiant St Paul's 32 – 20 in one of the closer encounters in the competition's recent history.
As the crowd flooded into the stands at University Oval No. 2, an atmosphere was built full of nerves and excitement. Both sides being made to wait another week for the game to take place only evolved the anticipation in the rumoured "closest Rawson rugby final in years".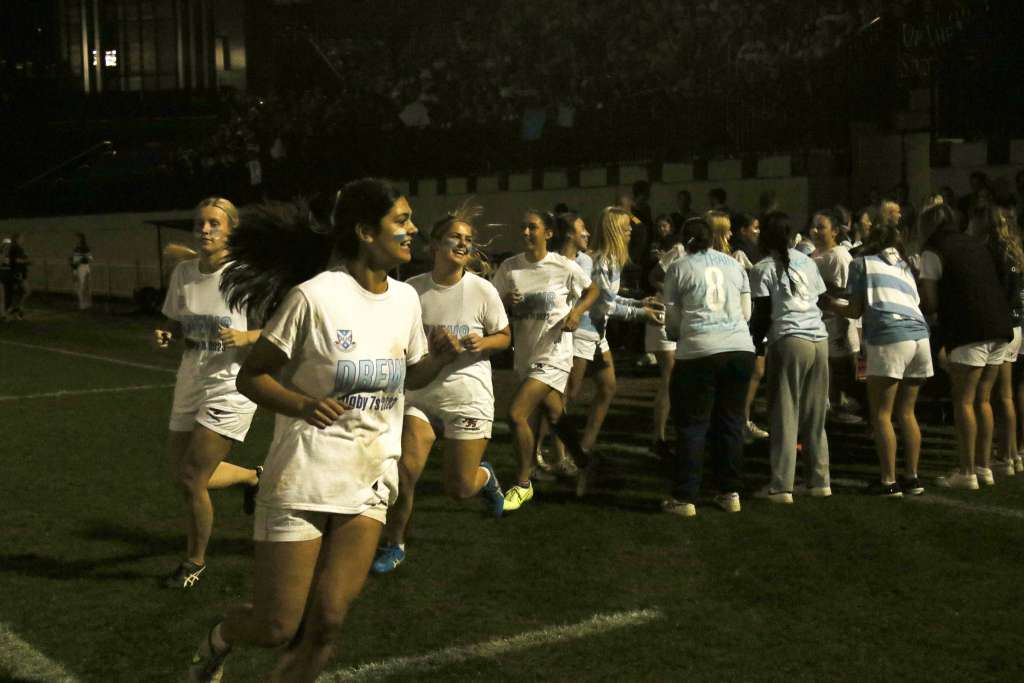 To commence proceedings the St Andrew's women's rugby sevens took centre stage in their final against Women's College. The Kara Selvarajah led side fell on the back foot early, conceding the first two tries of the game but, in classic Drew's fashion, a fight back was made. Selvarajah led from the front, slicing through a gap in the Women's defence to get Drew's on the board, going into half-time Drew's 5 to Women's 10. The second half then kicked off with Women's once again flying out the gates scoring another try to extend their lead out to 12 points. A highlight of the brutal game came as Ruby Stitt took a strong carry into the Women's defence going down with what looked like a painful injury only to brush it off and get back involved in the game, embodying everything Drew's is about. The game finished with a well worked try and finish in the corner from Sophie Oakshott reflecting the 'never give up' attitude of Drew's. The full-time whistle was blown with Women's winning 17 to 10 in an exceptional game of rugby sevens.
Finally, the wait was over with the ref blowing the whistle, and Paul's kicked off the ball. The kickoff went high into the night sky and was caught by Drew's fly-half Saxon Fenwicke who immediately kicked it into touch. For the first 15 minutes of the game, Paul's played a clever territory brand of footy, consistently asking questions about Drew's exits from their own 22. That said, Drew's rode the pressure brilliantly with well-executed exit kicks from Fenwicke and full-back Jake Jorgensen. Drew's eventually gained some field position off the back of scrum penalties created by the 'scrum doctor' himself, Henry Daunt, diagnosing the Paul's forwards with a bad case of 'getputonyourarse-itis'. Drew's took this field position advantage and did not disappoint with a strong maul leading to a front foot ball that landed 'master puppeteer' Jake Jorgensen a try in the far corner.
Some poor discipline allowed Paul's to quickly reply in the form of a pick-and-drive try that was converted (Paul's 7 – Drew's 5). Another penalty gifted Paul's the chance to advance their lead with a beautiful goal kick slotted by the Paul's full-back Jack Matthews to make the score 10 to 5. Against the run of play, Drew's came up with a sharp short side play that gave the ball to Mateo 'does everything' Baldwin, who dashed from 25 metres for Drews' second try of the night, nicely converted by Payne (Paul's 10 – Drew's 12).
With 30 seconds to go in the first half yet again, there was another shift in momentum with a dynamic and jaw-dropping play from Paul's inspired by the likes of James Slipper and Noah Lolesio against the Springboks. The Paul's half-back passed the ball to Loosehead Prop Jamie Clark, who shaped to give it back but then popped it inside to a sniping Jack Matthews, flying through a hole untouched and scoring Pauls' second try to give them the lead at half-time (Paul's 17 – Drew's 12).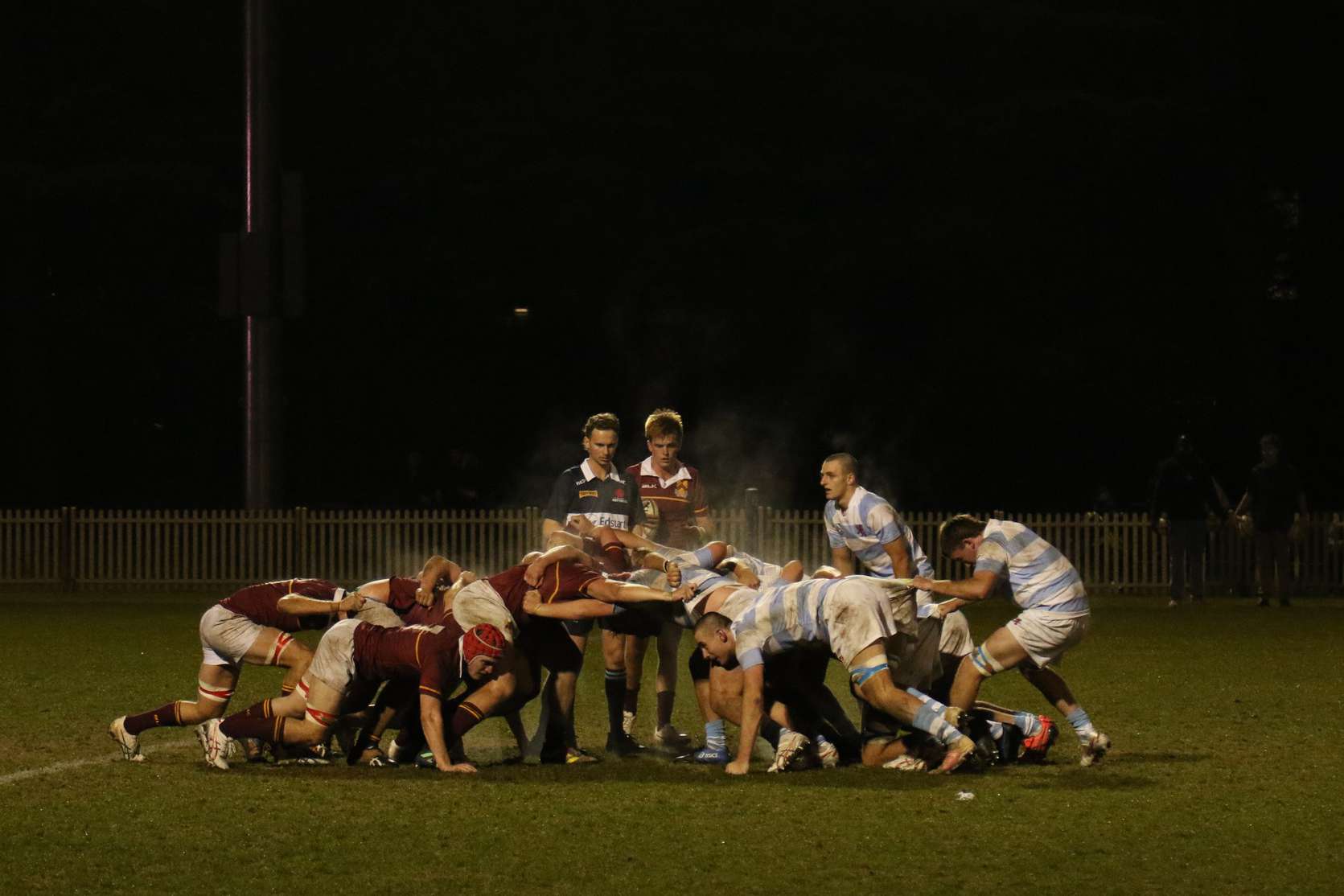 Whether it was Wayne Erickson's half-time rev-up to the forwards or just Hamish Todd's presence in the huddle, we will never know, but one thing was clear, Drew's was a new side in the second half who simply wanted it more. The new second-half buzz was displayed with a coach's dream of a superb line-out maul move that handed Jasper Jarvis the levelling try (Paul's 17 – Drew's 17). If any nerves were left in Drew's crowd, they were undoubtedly lost as substitute flanker Freddie Toone made his way onto the field sporting a questionable buzzcut, worryingly pulling it off well. More discipline issues in the ruck gave Paul's an opportunity to take the lead with another penalty kick converted by substitute full-back Fitz Bowman (Paul's 20 – Drew's 17).
From this point on, it was well and truly The Drew's Show, with a slick flick from Fenwicke to Mateo Baldwin putting Drew's on the front foot leading to a gritty pick-and-go try from Jarvis, giving him two for the match (Paul's 20 – Drew's 24). This was followed up quickly with a successful penalty kick from a composed Dougal Payne (Paul's 20 – Drew's 27).
To finish a first-class game of rugby, Drew's turned to what worked for them all night in a well-drilled line-out maul move flying them 10 metres forward to provide the game changer Toone with his first. The final whistle was blown, ending the fixture: Paul's 20 was defeated by Drew's 32 in a game that led up to its name of "closest Rawson rugby final in years".